Mostly headwinds and knee pain.
The morning got an early start, at a quarter of 6, and I'm glad it did because the rain started coming down just as I finished cooking oatmeal. Thankfully I'd left the tent up, so I had a dry place to eat. The shooting started around 7 with the rain, and I was on the road as soon as the rain started to let up.
Short on water, I had to postpone coffee & 2nd breakfast till around 11, when I found a cue little city park with all the amenities a cyclist could want: a pavilion for cover from the rain, picnic tables, running water, working electricity and bathrooms on the other side of the parking lot.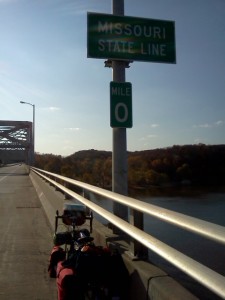 From there I chased the front the rest of the day, staying just ahead of the clear skies and warming sun. It didn't really matter, because the winds never let up. The road changed directions enough at one point that the headwind became almost like a tailwind, but that was short lived as I took a 20-mile detoured around I-172 (bicycles prohibited) and the last 12 miles to I-72 (bicycles allowed on rightmost shoulder only) and Hannibal were almost but not quite excruciating.
When I finally got into downtown Hannibal I had to contend with it being 4 on a Sunday afternoon. I finally found an open restaurant, Treadaux Pizza (sadly no beer, sign to the contrary), and destroyed a 14″ pizza.
It was getting dark, so from there I headed for the nearest campground, Mark Twain Cave, conveniently situated on the wrong side of a 400 foot climb. As luck would have it, I arrived 9 minutes after the office closed. So much for attempting to score a late-season bargain (the website said something about closing November 1st). On the up-side, they have wifi, a heated bath-house and a coin-op laundry. Still not sure it's worth the $19/night, but the state of my knee deemed it worth the price of not to have to go any farther tonight. Unless it's feeling better, I'm probably not going to make it back over the hill into downtown Hannibal to see the Mark Twain museums before leaving town, either.