"Sweet, I've got enough frequent-rider points for a free ticket to Montana. Hey Sean, wanna go to Glacier National Park?" my friend Jim asked. And so another bicycle tour was born.
Tuesday, August 7th, my affable- and frequent- bicycle-trip companion Jim and I set off for Glacier National Park in Montana via Amtrak. The train was two hours late in arriving in St Paul, and another hour late in departing. We took it in stride; if we were in a hurry we wouldn't be riding bicycles.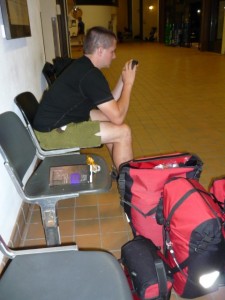 Over the next twenty-six hours, we saw the splendors of the prairie, the first hints of the rough terrain to come, and miscellaneous and sundry bad puns were tendered.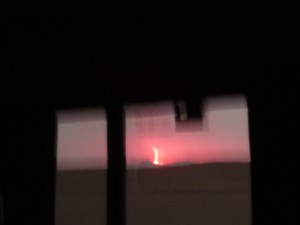 We arrived about 2AM, MDT. We were glad to have reserved a hotel room given the late hour, but we had to pay a premium for it because Whitefish is a tourist town, and August is peak tourist season.
The weather for the duration of the trip was consistently in the low 50's Fahrenheit at night, reaching into the low 90's during the day. We indulged in breakfast at a local cafe, collected edible supplies at the Safeway grocery store, and then rolled north for the hills.
We soon turned off the pavement and rode part of the Great Divide Mountain Bike Route.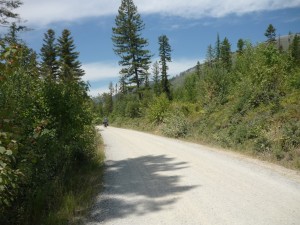 After 29.6 hard-won miles, and one scenic detour, we made camp at Upper Whitefish Lake, elevation 4,433 feet.
Although our fishing attempts were for naught, and the water was too brisk to be refreshing, a quick dunk in the lake did wash off most of the day's accumulated dust.
The next morning the lake was still as glass, and it was hard to leave such beauty and tranquility.
Day two proved to be even more grueling. We crested Red Meadow Pass, about 5,570 feet, riding on loose and frequently rutted gravel roads.
The speed as we descended from the pass was exhilarating. So were the mountain tops teasing us from over the trees.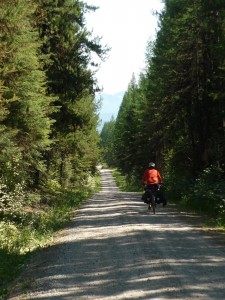 We paused briefly for refreshment at Polebridge Mercantile. Jim still had a vestigial AT&T signal, but I had lost touch with Sprint back in Grand Forks ND days ago and was over-joyed to find the Mercantile had WIFI.
Then we crawled our way into Glacier National Park.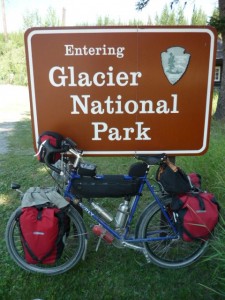 For six miles we bumped, skittered, sweated, and choked on the dust of SUV's roaring past every thirty seconds on this one-lane "rustically-maintained" gravel road. The bumps eventually got so bad that I ran a Surly "Junk Strap" around the bottom of each pannier to keep it attached to the racks.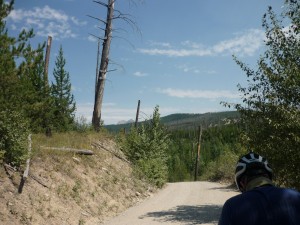 Some how we scored the second-to-the-last campsite at Bowman Lake Campground, 31.2 exhausting miles of punishing roads after leaving Upper Whitefish Lake. We were too tired to protest the exorbitant $16/night campsite fee; at least it had running water and pit toilets. The reward for this exertion was a stunning view of Bowman Lake.
Day three dawned with the Bowman Lake Campground Host telling everyone to be cautious because a mountain lion had been on the beach overnight. According to the campground host, mountain lions usually attack smaller lone creatures, not adult humans, but fighting 120 pounds of muscle, teeth and claws for my life didn't sound like much fun to me. Fortunately we didn't have any further encounters. We back-tracked the six miles to the park entrance. It was already getting hot, so I refilled my entire 10 liter water supply. Then we headed for the main campground at Apgar. The road to Apgar was far more pleasant than the one to Bowman Lake because it was temporarily closed to motor vehicle traffic after the first seven miles.
Thirty-five miles after leaving Bowman Lake we reached Apgar. After days of wilderness solitude, entering Apgar was jarring to the senses: paved roads, the cacophony of cars everywhere and people swarming over everything. The upside to this was $5/person-night hiker/biker campsites, and the first bacon-cheeseburger of the trip.
Day four we had breakfast at the restaurant, attempting to get an earlier start on the "Going-to-the-Sun" road. Our destination was Avalanche Creek Campground, 16 miles away, but we only made the ten miles to Lake McDonald before we had stop because bicycles are prohibited due to the extremely heavy traffic on this narrow road from 11AM – 4PM.
The water was the warmest we'd found yet, and Jim caught a fish.
At the stroke of 4PM we resumed riding for Avalanche Creek Campground, delighted to find it also had a $5/person-night hiker/biker campsite.
Day five dawned cool, and we continued riding the Going-to-the-Sun road, the mountain tops looking ethereal in the fog. We crossed Logan Creek, and wondered if it was the distant trickle we saw near the pass.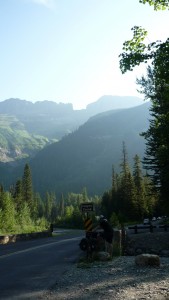 Then the climbing began in earnest. Just before the hair-pin turn we paused for a peek at Heavens Peak.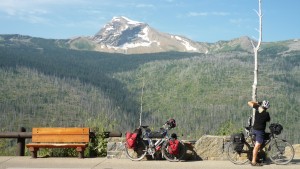 Climbing up to 5,000 feet, the pavement suddenly turned to gravel and we were stopped for road construction.  The flagman said that traffic was being lead, one-way-at-a-time, in 20-minute increments. This afforded us with 20 minutes of traffic-free climbing alternating with 20 minutes enforced rest to catch our breath and soak in the view on the narrow, winding road.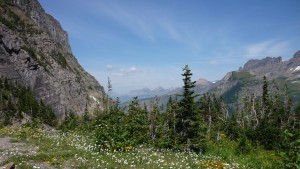 After hours of climbing, we suddenly reached the summit at Logan Pass, 6,646 feet elevation.
We wandered the visitor center, but I doubt we could have lingered long enough to feel justified given the climb. Descending, we coasted at speeds of 20-30mph for nearly three miles before we had to pedal up another incline.
We stopped at Rising Sun Campground, near St Mary Lake, delighted to find a another $5/person-night hiker/biker campsite, pay showers and a restaurant. Naturally I had to have another bacon-cheeseburger, although it proved to be the last one of the trip.
Day six we broke fast at the restaurant, and then rolled out of the park and into the grasslands at high speeds, until we rounded the corner of St Mary Lake and the tailwind became a headwind.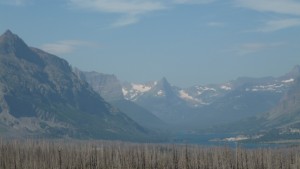 The flat ground turned to high-amplitude rollers, and then we started climbing again in earnest.
One last turn and 38 miles into the day we were suddenly in the town of East Glacier Park. We checked in to Brownies Hostel, made short work of some of their signature huckleberry pastries, and then set about eating lunch. Followed by a nap. Followed by dinner. Somehow there never seem to be enough calories to stay full when bicycle touring, and all the climbing we had done over the last week now had to be reckoned with.
Glacier National Park is truly beautiful. My only regret was not spending more time, hiking the trails and seeing more of it; but Jim had to get back to work. Since the trip I've been looking for work to finance another cross-country tour some years in the future, but all of the contracting jobs have been both unprofitably far from home and short enough not to be worth relocating, while the so-called "permanent" jobs seem to be scared of someone without the conventional noose of massive debt obligating them to suffer gladly any and all indignities said job doth surely contain. So, in order not to trouble their little heads with such unconventionality, this may be the last post on this blog. Any future blogging, should it occur, would most likely have to be anonymous, but a rose by any other name… I still have stories to tell about Glacier, and heaps more pictures, so I may write an e-book about them if there is sufficient interest. If you have source code for software you need maintained please contact me, I have been writing and maintaining software since 1999. I specialize in embedded control and network programming, not just desktop computer applications. I'm teaching myself Android app development, too.
Till next time, keep the rubber side down.
-s