I left my free campsite in a preacher's back yard in Plaquemine about a quarter to 7AM, and began sniffing out breakfast. After two false starts (cafe's that had gone out of business), I wound up at McDonald's for only the second time on the trip. (I think that means I've eaten at McD's more in the two months of this trip than in the entire previous two years!) I pulled up and parked next to a local, who was jamming to some music next to his bike, a cruiser-style affair sporting ape-hanger handlebars. We talked bikes and cold weather while I dug out the laptop and bag of sundry cables and cords.
Inside I ordered the biggest breakfast on the menu board, conveniently called the "big breakfast with hotcakes" and a large coffee. Twice. It also seems that Mickey D's wifi cuts you off after an hour or so, so I rolled for the library. By the time I had decided that Bob Robinson's Mississippi River Trail guidebook was right, there truly was no convenient camping along this stretch of the Mississippi River Trail, the skies had opened up and the deluge began again for the second day in a row.
With no planned destination in mind, I set off for White Castle LA, about 10 miles away. On reaching it, I saw the quaintly named the "Cafe by the River". Excellent. However, the "Cafe by the River" bore a hand-written note on the door explaining that Friday, July 29th, would be the last day of business. Bogus. Seeing no place else serving edibles, I rolled onward for Donaldsonville LA.
About 5 miles out of Donaldsonville I could tell my double breakfast had run out, but there was still sufficiently much precipitation that I didn't want to open (and flood) my food pannier. I stopped at the first establishment I came to, a seafood market that the GPS mistakenly had classified as a restaurant. The proprietor suggested the chicken place down the road. On reaching Chef's Chicken, I indulged in two huge pieces of the best fried chicken I think I've ever had, along with sweet corn bread, coleslaw and a pecan danish. Twice. (The second time I had a piece of ginger cake instead of the danish.) And coffee.
Google Maps claimed there was an RV park just a few miles away, so I set off in search of it, with the backup plan of finding a church and hoping for a sympathetic preacher.
Unsurprisingly, the RV park wasn't there any more. After two false starts (churches that were in places I wouldn't want to camp due to noise or perceived unsafe locations), I wound up at a hotel for only the second time on the trip. This time I paid a $45 premium for a Best Western, which was not crawling with obvious roaches. Unlike the place in Cherokee Pass MO, this hotel featured clean rooms,  an on-site coin-op laundry (to which I availed myself) and a free breakfast. I'll see how much of my $45 premium I can recoup on breakfast. :-)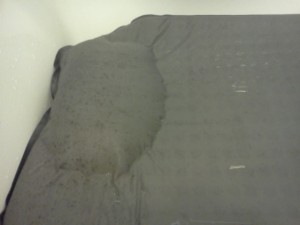 I also finally got the chance to investigate my leaking sleeping pad, by dunking it in the bath tub. It appears to be de-laminating internally, as it started bubbling all over a foot-long section at the head end, before a large bulge appeared[1], like something out of the movie Alien. I ran away screaming[2] before anything attached itself to my face.[3] I'll have to talk to REI to see if they'll warranty it: unlike a cut or a puncture which would obviously be wear, this seems like an internal defect. (I don't know how long they're expected to last; I can only account for about 10 months use in the five years I've owned it.) Looks like the nearest REI is about 400 miles away, in Houston TX.
—
1. Those aren't pillows!
2. Everybody heard because we're not in space.
3. Unfortunately I'm out of orbital nukes.