Port Gibson to New Roads
Thursday, 1dec2011: I had purchased a quart of denatured alcohol for the Trangia stove at the hardware store on entering Port Gibson. With denatured alcohol the Trangia lit easily and burned much hotter, but I had burned nearly the entire quart in just four meals (and starting two camp fires). I stopped at the hardware store again, this time with the following scheme to buy a quart of white gas: I asked for the owner, explained how I was willing to pay $8 to $10 for just a quart to fill my fuel bottles (she only had gallon cans for $10) if she would let me leave the remaining 3/4 of a gallon for her to re-sell again. (I also mentioned that Walmart sold it by the quart for $7, but I'd rather buy it from her than Walmart). Being intelligent and reasonable, once she understood that I had my own bottles, she agreed. She said she was selling me the gallon for $8, just over her cost, then followed me outside and watched me carefully fill my bottles. She asked what other uses it might have as she took the remainder; I suggested degreaser. So if you need a quart of white gas on the southern end of the Natchez Trace Parkway, stop at Claiborne Ace Hardware in Port Gibson at the intersection of Highway 61 N & Old Port Gibson Rd (Highway 18) and ask for Shreve.
From there I got a bacon double cheeseburger, "potato logs" (and Klondike bar) at the gas station next door as takeout, and headed for the Sonics a bit north on Highway 61 and bought coffee. While I was enjoying my coffee & smuggled in lunch, a lady pulled up, saw my loaded touring bike, and asked if I was familiar with warmshowers.org. Nicole said she had marked herself as an "inactive host" after having 18 guests over the summer, and gave me her home address & phone number, saying I was welcome if I wanted to go an extra 12 miles past Natchez State Park. So coffee and contraband-burger finished, I rolled for Natchez at full speed. The Natchez Trace Parkway was treat to ride, with beautiful scenery on a perfect day.
I saw Mike & Terry on their return trip from Natchez State Park, exchanged pleasantries, and continued heading south at top speed. (I also saw one other cyclist who waved, but he didn't slow down to converse.)
I reached Natchez State Park about sunset, and Nicole's about an hour later. I haven't tried using warmshowers.org before, mainly because my plans are so fluid and likely to change. Nicole was a gracious host, even offering leftover chili and spaghetti for dinner (not expected and very welcome).
Fri, 2dec2011: Leaving Nicole's I headed into Louisiana, and made an early stop for lunch at Nikki's Cafe, where I had the usual: half-pound bacon cheeseburger, with coffee. Dessert was "warm" pecan pie, that seemed more like room temperature. While I was working on the pie, I saw a man outside eyeing my touring bike. He came back inside and started looking around, so I waved him over and invited him to sit down. I should have written it down, but I think his name was Toby; he was the owner of a local Bed & Breakfast. We talked for a while, and then I was off for groceries before heading down the river and back out into the wilderness.
The ride alongside the levee was quite pleasant, with good shoulders and warm temps, trending close to 70F. I stopped at a primitive campground about 2 miles north of the intersection of Louisiana State Highways 15 & 418. It wasn't the most primitive campground I've been to, given that it had three portable chemical out-houses on-site, and since it was free I wasn't complaining. That is, until 11:15 PM, well into "quiet hours", when some fat old idiot parked a large trailer with a large generator 20 feet from my tent, and fired it up, saying he was going to run it all night. He had three linebacker sized youths with him, and a truck full of guns. So I relocated my tent next to the highway, which was much quieter (Inverse Square Law and all that).
Saturday, 3dec2011: Having received a text saying my rear wheel with it's (hopefully!) repaired freehub would be waiting for me at the New Roads LA Post Office, I planned to make a short day, stop at Jim's Camping area (a private camp ground) and be on my way. The headwinds made for balmy temperatures in the 70's (F), but meant I didn't reach New Roads till 2PM. And discovered the post office closed up at 11AM on Saturdays. So I stopped by a coffee shop, Espresso Etc, and found their wifi no longer operational. I made up for it with a dark-roast coffee and a trio of "beignets", a French-sounding name for a deep-fried pastry smothered in powdered sugar. It was like a square donut, without the hole.
Jim's Camping area wasn't much better. There was a "bar & grill" on site, with a limited selection of lousy beers, and they had bad service because of their preoccupation with some college football game on TV. They also had the filthiest bath house I've ever seen. My $8/night did get me a site with electricity, tho'.
After I had retreated to my tent, I heard the unmistakable sound of a tent being set up. Here I met Nathan, a cyclist from Houston TX returning home from Florida on the Adventure Cycling Association Southern Tier route. He was running a 52 cm Surly Long Haul Trucker (which was naturally named "Shirley") nicely set up with Ortlieb panniers on stainless-steel Tubus racks. Nathan and I pooled our resources and dined (my second dinner) on a smorgasborg of macaroni-and-cheese with salmon, some vegetable (carrots or peas, I don't recall which now), bacon, sharp cheddar, GORP (Good Old Raisins & Peanuts), strawberry Pop Tarts and washed it all down with some after dinner green tea. It was a three-stove operation, as his propane-fuel canister ran out part way through, as did the remains of the denatured alcohol in my Trangia. Whisperlite to the rescue.
Sunday, 4dec2011: A bit before 7AM I rolled out of bed, and found Nathan packing up. He packed a clean machine, with everything except his tent fitting in his four panniers. Puzzled, I queried him on his gear list, and found it comparable to mine. The difference: his front panniers were just as large as his (and my) rear ones, so he had ample room for even more food than I was carrying, without a strapped-on duffel bag like I was using.
Mystery solved, we had a communal breakfast of oatmeal (with peanut butter), trading his Baton-Rouge Farmers' Market oranges and chocolate-fudge Pop Tarts (my precioussss,) for my golden raisins and a refill of his 2 oz bottle of hand-sanitizer. A few photos later we said goodbye, Nathan rode off and I started a walking tour of the area, looking for laundry facilities. After I discovered the nearby "Wash-E-Teria" was out of business due to flood damage, Nathan returned with a flat rear tire. Naturally I had to kibitz while he installed a new tube, which proved to have a leak near the valve stem. So I added a fifth patch to his original tube, while he installed his other spare, this time lining up the "hot patch" (manufacturer's label) with the valve-stem hole to expeditefuture tire forensics. Flat finally fixed, we said goodbye again and I spent the rest of the day catching up on domestic issues (laundry) and deferred maintainance (replacing the heat-shrink tubing that keeps my dynamo-hub quick-disconnect connectors from electrically shorting one to the other).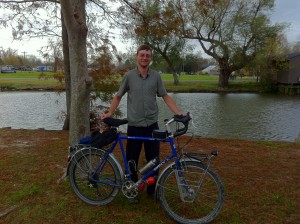 I took a leisurely ride back into town, only to discover no place open to get change for the one laundromat that was ostensibly open for business, although I'm not sure any of the machines were operational.
I had both lunch & dinner at Jim's Place bar & grill, an un-inspiring cheeseburger and an allegedly "spicy" sausage po' boy sandwich.
I did learn one thing from this experience: PBR isn't the worst beer ou there, not by a long shot. Naturally, Jim's Place didn't carry it.
On the up-side, I was able to get my wheel from the Post Office Monday morning, and it seems to be in working order now.