Meeman-Shelby Forest State Park to Memphis TN, 28 miles
I got up at 5AM, and had everything packed up before the rain started. And rain it did, all day long. I looked for a picnic shelter at the state park, but it had partially collapsed and didn't look safe, so I had a little breakfast picnic on the covered front porch of what might have been the arts & crafts building (it was the only place I could light the stove).
The 18 miles into Memphis saw traffic gradually pick up, although I was pleased to see the major arterial roads mostly had signed and striped bicycle lanes. I rolled by Cafe Eclectic and decided it's always time for second breakfast.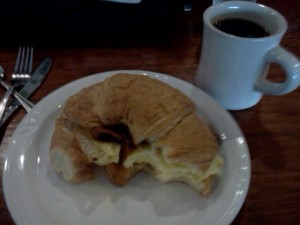 I had a bacon-egg-cheese croissant, and buckwheat pancakes. Inside I was seated at the bar, next to a guy named Jeff who started asking about my bike, my trip, etc, and said that his brother, for whom he was waiting, was also a cyclist, and would likely be able to recommend a place to stay in Memphis.
When Gary, Jeff"s brother, showed up, he recommended the Pilgrim Hose Hostel. I emailed them as instructed and headed into the rain in search of a bike shop to replace my fraying front dérailleur cable. The closest bike shop, according to my GPS, was Midtown Bike, supposedly near the hostel. Unfortunately the GPS' map is out of date: Midtown Bike Co. had since moved (to downtown I later learned), so I set off in search of the the next closest bike shop: Peddler Bike Shop.
Peddler was open, and I was able install a new front dérailleur cable and get another bottle of chain lube (I should have filled mine before I left). While I had the bike in the stand I inspected my rear tire boot job, and discovered I needed a new rear tire, too.
The boot, while keeping the tube from blowing, wasn't enough to keep the tire sidewall from bulging in a threatening manner. Clearly I wasn't going to put any more fully-loaded miles on it than I had to.
While I was there, the owner, Hal, also recommended the Pilgrim House Hostel. Giles, one of the mechanics, said they had space in their house, and having not heard back from the hostel, I accepted.
From there I went to Garibaldi's Pizza, where Allyson, one of  Giles' hose-mates worked. I put away a (thin crust) 14-inch Chicken-Alfredo-Spinach pizza, to much amazement. (If it had been a thick-crust pizza I would have had to scale it down a bit.)
After that I headed for Giles' place: DeCleyre House. It's an interesting place: an old building that's sporting lots of crazy additions, so the place is like a maze, has a huge private library, a constantly evolving set of murals on the walls, and is populated with aspiring artists and other cool people like that. Very welcoming. Naturally they're hip to the whole car-free lifestyle thing, and they've hosted a number of touring cyclists over the years.
Hanging out in Memphis TN
Since Marathon Supreme's are a hard-to-find a specialty item, I had a few days to check out Memphis. I first headed to Brother Juniper's for second breakfast, where I tried a gyro omelet and cheesy grits. I liked the omelet. Grits might be a taste I'll have to acquire.
Next was the Pink Palace Museums, part mansion from Clarence Saunderslegacy, it now includes a history museum, planetarium and an IMAX theater. I spent the afternoon exploring the history museum.
One exhibit that caught my eye was "how to make a shrunken head"; somehow it made me think of my cousin Justin (you'd have to have grown up with him to appreciate why).
For lunch I heeded a locals' recommendation and headed for Central B-B-Q, where I had a pulled pork sandwich, with coleslaw inside, and a New Belgium Brewing "Snow Day" stout.
Dinner was at RP Tracks, a typical college bar, where I had the 1/2 pound "RP Burger" with bacon and Gouda, and steak fries. And another New Belgium Brewing "Snow Day" stout.
After two very full days I retired to DeCleyre House for an early evening.