East Prairie MO to Reelfoot Lake TN, 57 miles
Chilly early (4:45AM) wakeup; I had ice on the tent rain fly again. Rob drove up about 5AM, as I was just about finished packing up the tent. When I got to the Depot B-B-Q restaurant he bought me (first) breakfast. I chose the biscuits & gravy with ham. Saw Jim from last night, and a few other farmers and other early risers. I bought myself second breakfast: biscuits & gravy with sausage. The biscuits were fresh out of the oven, just as Rob promised, and delicious; the best I've had yet. Rob spent about an hour talking with me, recommending various sights to see, and said if I chose to stick around one more day he'd invite me over to do laundry. After Rob went off to take his daughter to have her wisdom teeth removed, I lingered another hour in indecision. Around 7:30AM the place was really filling up, so I beat a hasty retreat to my bike, and set off in search of a replacement for my broken bottle of dish soap. The first drug store didn't open till 8, and the second didn't open till 8:30, so I decided to scope out the town. I found Rob's office on Washington Ave, and then the library. Which was unfortunately closed for Veteran's Day. So I kept riding. Eventually 8:00AM came, and I re-tried the drug store, but got the wrong (8:30) one.
A few blocks over I found not only the right one, now open, but the pharmacist overheard my quest for a replacement bottle, and she offered up not only a liquid-tight medicine bottle, but also dish soap to fill it. For free. I love small towns. Mission accomplished, I queried the GPS for a park to hang out in while trying to decide where to go next.
My GPS claimed to not only know the location of Towosahgy State Historic Site, one of Rob's recommendations, but also claimed it was just 10 miles away. Decision made, I rolled East for Towosahgy. I saw ice on the puddles in the drainage ditches, although the day was already warming up quickly. The first 7 miles flew by relatively effortlessly, but then roads started turned to coarse gravel, and he winds turned into headwinds. The last several miles were a slog.
When I finally reached Towosahgy, it featured Native American (burial?) mounds, but most of the interpretive displays had been destroyed in the Spring 2011 flooding. Due to the extremely early start to the morning, I managed to do some of my first sight-seeing of the tour. I'm not really sure what to make of the mounds, but I spent about an hour wandering anyway.
Looking at a map at Towosahgy, I saw Big Oak Tree State Park was allegedly only 5 miles away, and decided to make that my next stop on my way to the Dorena-Hickman Ferry.
Thinking I needed to find water before continuing, I was surprised to then spot a spigot hiding behind the split-rail fence. I started to ride off, thinking my 1L Nalgene bottle would be enough to get me to Big Oak Tree State Park, but then thought better of it and tried the spigot. The water that came out was muddy brown, but it soon cleared up. I filled up the 6L Dromedary and planned to filter it later just to be sure it was safe.
The winds had ceased to calm; and I remembered both Rick (from Cape Girardeau)'s and Rob's mention that the hills would be replaced by winds from here south. Trying to navigate one gravel road between farm fields, I was soon playing chicken with a combine. I pulled over to let it pass, and it came to a halt next to me. The door opened, and one of the farmers from breakfast (whose name I never caught) leaned out, saying "Long time no see!" He confirmed that I was on the right road to the State Park, and I rode on.
Not long after that a pickup truck pulled up behind me, and two other farmers asked about my destination and if I needed anything, saying they didn't see many bicyclists on the little gravel farm roads. I told them I was headed for the State Park, then the ferry, and thanked them for their concern.
I reached Big Oak Tree State Park about noon, and walked the 1.4 mile "boardwalk" to the end, feeling like a dwarf among giant trees.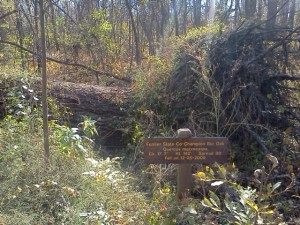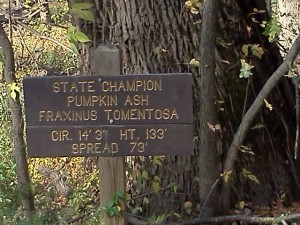 Feeling hungry, I tried out the new windscreen while heating water (it worked well) for coffee and oatmeal with raisins, cinnamon, almonds, two spork-fulls of peanut butter and a dash of olive oil for lunch (calories = fuel).
By now it was after 2pm, and I was feeling pressed for time. I headed for the ferry in a vain hurry, and then had to wait for it to arrive.
$2 for bicyclists, and I'm glad I wore the rain suit even though I stood near the back of the ferry.
Arriving in Hickman KY about an hour before sunset, I had a funny feeling about the place. It didn't get any better when when I had a very persistent dog chase me for over a quarter-mile even while I walked the bike, or when a retired couple pulled up in a large pickup truck while I was putting on my jacket & warmer hat a bit later, at sunset. Seeing the bike on the ground, they asked if I was alright, asked about my origin & destination, warned me to be careful in New Orleans, and then the woman (who looked very much like a golden raisin that had spent too much time in a tanning booth) said with disdain "it's only a bicycle" and they roared off.
I continued in the dark for about an hour till I was in Tennessee. The day's fierce headwinds had finally begun to slack and the GPS claimed I was only 15 miles from Reelfoot Lake State Park. I had my worst dog scare yet when two yapping mutts appeared out of the darkness at my heels just as a semi-truck was approaching from behind. Fear got me moving at double-digit speeds again, which I sustained the remaining 6 miles.
And then things really got weird. The GPS said turn right, and pointed left. There were houses to the right; there was a sign for "Reelfoot Lake Wildlife Management Area" to the left. Taking a wild guess, I headed left. Yet another surprise dog attack, but this one backed down from my headlight as I chased it back into it's yard. When the GPS claimed I had reached the park all I saw was a one-lane gravel road, and a ways down a sign for "wetland management in progress". By now lack of sleep, exertion, cold, and leftover adrenaline combined with low blood sugar: I was a mess. I decided to sort things out in the daylight, threw the tent down in the first clearing I spotted, ate something and passed out.
Reelfoot Lake to Hall TN, 61 miles
Clearly I wasn't in the state park, because I woke up to a group of deer hunters assembling on the other side of a gate I didn't remember. As they unloaded 4-wheelers, I packed up quickly and rolled out just as they started shooting off in the distance.
The GPS claimed there was a cafe eight miles away, so I rode on, but had no luck in Tiptonville (the cafe was closed), and continued on to Ridgely. Ridgely didn't look much better: everything was closed, regardless of all the "OPEN" signs on display everywhere. On my way back out of Ridgely, I saw a truck at Dorothy's Famous Foods, and found Dorothy had now opened the place for business.
Coffee. Ham omelet. Side of bacon. Toast slathered with butter on both sides. Round two: Bacon omelet. Butter with another side of toast. And then donut holes. Listened to Dorothy talk about her restaurant, her family, her town, and everything else under the sun. Small towns are quaint like that.
Rolling out of town, I saw numerous cotton fields, including some baled for transportation to the "cotton gin."
Facing a long slog into the wind, I did something for which I've always derided other cyclists in the past: listening to music while riding. I've always had a negative opinion of it in the past because most people with earphones seem dangerously oblivious to the real world.
You have to understand: the wind was atrocious, I had 35 miles of nothing to see but empty, already harvested farm fields, a wide shoulder of good pavement and I only put in the right (non-traffic-side) earphone. It seemed to help: I felt my cadence syncing to the music and I saw my average speed pick up from eight to a blistering 10 MPH.
I continued into the wind, eventually seeing a hillside consumed by kudzu.
Some indeterminate time later I crossed out of farm country and passed Charlene's Colony of Shoppes, so I had lunch at the Tea Room: a dainty little chicken-cheese croissant with a cute little side salad for an outrageous $9.95 (plus another $2 for coffee)! It got slightly better when one of the cooks came out and offered me a free bowl of corn chowder.
The evening finished off with a stop at a grocery store, then a gas station for an ice-cream sandwich and a gallon of water, and finally camping in the corner of a farm field.
Hall to Fort Pillow Historic State Park TN, 38 miles
After an early morning (pre-dawn) departure, I found a little road-side park with picnic tables for cooking breakfast.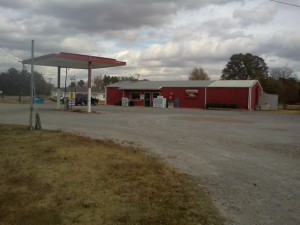 The headwinds were still formidable. At noon I reached  some little gas station/convenience store, and stopped for lunch: a very dry BBQ beef sandwich, with coleslaw and "potato logs". Followed by a very dry cheeseburger topped with the driest bacon I've ever tasted. And more potato logs. Heat lamps must be a wonderful thing. Or something.
I took an eight mile detour despite even worse headwinds, and finally reached Fort Pillow Historic State Park. $8/night. It was a beautiful campground, with a modern bath-house and wonderful showers.
I washed laundry & then strung up a clothesline at my campsite to take advantage of the 73F temps and strong winds. Except for the early (5pm) sunset, it felt just like a Minnesota summer evening.
Fort Pillow Historic State Park to Meeman-Shelby Forest State Park TN, 67 miles
Fort Pillow State Park was so nice I was torn between taking a rest day and pressing on. The forecast of rain urged me to press on. I reached Covington about lunch time, when disaster struck.
Looking for lunch, circling Covington, I decided to cross a grass median in search of a bacon cheeseburger. PSSSSHHHTTT! I'd glancingly hit the jagged edge of a broken-off pipe (former sign-post?) that shredded the sidewall of my front tire, and gashed the sidewall of my rear tire (although I didn't know that till later). Hungry but refusing to let it ruin my mood, I installed the spare tire & one of the seven tubes I'd carried for 1500+ miles over the last 5 weeks. I stopped at the nearby Mexican restaurant for a beef chimi-changa with rice, beans, guacamole, sour-cream, pico de gallo and a negra modelo. Thoroughly stuffed, I staggered out the door at 3PM and attempted to cover as many of the remaining 35 miles as possible by sunset.
I made it all but 6 miles to the park when disaster struck, again: the rear tire flatted on a one-lane gravel road, in the dark, while the thunderstorm I'd been evading all day drew closer. I managed to boot the tire and roll on, only losing an hour in the process (everything takes longer in the dark, even with a head-mounted-lamp).
Despite strange problems where my GPS kept "forgetting" where I was, and so was unable to calculate how far to the park, I eventually got there.