I've had several days without cell phone service, wifi or campgrounds with running water, so here's the story since leaving St. Louis:
St. Louis to Meramac State Park, 70 miles.
Brent and Katie drove me to the  Weldon Spring intersection of the Katy Trail. The Katy Trail is a former rail corridor with gentle grades, a nice crushed limestone surface, and impressive views of rock walls, forests and farm fields.
I had lunch at the Augusta Brewing Company, a bacon-cheeseburger and one of the house IPA's. It was good but not remarkable other than being right on the Katy Trail at Augusta.
I made a minor milestone: my odometer rolled over 1000 miles for the trip!
I got in to Meramac State Park after dark, and was disappointed to find my $12 didn't include a shower because the park shuts off all running water after November 1st for the "off season."
Meramac State Park to Mark Twain National Forest near Potosi MO, 42 miles.
The flat land was replaced by big rolling hills as I entered the Ozarks.
I set new record high & low speeds for the tour: 42 MPH & 3.3 MPH, first descending into and then climbing back out of the same valley on State Road 185, near County Road N. Shortly thereafter I got caught in a traffic back-up: a car had hit a utility pole, and we had to wait for the police, fire department and utility company to clear the scene. While waiting, the driver of the car ahead of me opened his door and struck up a conversation: he and his son had seen me near Washington MO the day before, and wondered where I was going.
Rolling up one big hill I caught sight of Lyubuvs Mercantile, a general store so new it didn't have running water yet,  where two motorcyclists, Dave & Dave enjoined me to stop a spell. I talked bikes and touring, both motor- and bicycles, with them till my stomach couldn't wait any longer. Then I went inside and I had a late "lunch" of an ice-cream sandwich & coffee (bottled water + two Folger's single serve coffee "tea-" bags + microwave oven = coffee like substance). I talked to the owner while waiting for my coffee to cool enough to drink; turns out she left an office job in Moscow, moved to New York, Pennsylvania and now Missouri with her family so they could live in the country, where she works at the store during the day and at some unnamed factory at night.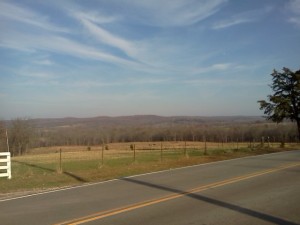 The wide-open spaces are hard to capture, but I'm still trying.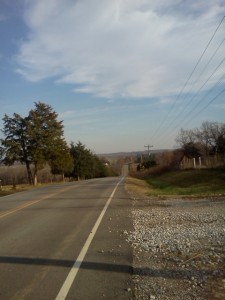 It's also hard to capture just how steep and endless these hills are.
Rolling into Potosi MO about 5pm, I was delighted to find Boo's Market was mainly a restaurant (even with wifi). Dinner of consisted of "The Trojan", a bacon double 1/3 # cheeseburger (nicely blackened & crispy) with fries & two Shlaflay Oatmeal Stouts (an excellent oatmeal stout, much better IMHO than the Slaflay "APA" American Pale Ale I tried in Hannibal).
Given the proximity of the Mark Twain National Forest, I had to make a point of camping there, just because I could.
Mark Twain National Forest to Johnson's Shut Ins State Park, Lesterville MO, 52 miles.
At Cousin's Outdoors general store I had an early first lunch of an "everything" sandwich (turkey, ham and salami, with pepper jack cheese) coffee & chocolate mini-donuts. While working on that sandwich, I met deer hunters Dave & his son Devon, who were so amazed at this trip they (as well as the store clerk) took my blog address. Good luck hunting next week Dave & Devon! Afterwards came second lunch: a salami sandwich (with pepper jack cheese), coffee & an ice-cream sandwich.
I made it to Johnson's Shut-Ins State Park, but ran out of park before finding the camp ground. My knees were both aching, and it had gotten dark, so I found a place to camp out of sight.
Johnson's Shut-Ins State Park to Longhorn Motel, Cherokee Pass MO, 61 miles.
I was out of potatoes for breakfast, but it didn't matter because the rain started before I finished eating my oatmeal & bacon. Fortunately I got everything packed up & was rolling before the skies really opened up.
As the rain continued, I reached Lesterville and spied a little gas station/cafe. Feeling under-caffeinated, but low on cash (their credit card machine wasn't working), second breakfast consisted of two full orders of biscuits & gravy and coffee. Coffee/blood ratio restored, I noticed the rain had stopped and there was a bank across the road, so I was able to get my last $100 bill broken (thanks for buying the "Big Dummy" cargo bike Paul!).
I also hit a new record high speed: 43.5 MPH. When I saw 40 MPH I touched the brakes so I could make the corner at the bottom of the hill. I'm happy to report that the 26″ wheel Surly "Long Haul Trucker" touring bicycle offers stable handling even at 30+ MPH with the recommended 60/40 front/rear weight balance.
I had several unpleasant dog encounters today, the worst at a place that also had a pair of goats.
As the day was winding down I rolled into Cherokee Pass MO, but couldn't corroborate the existence of the campground my map alleged was in Cobalt Village. Low on both water and energy, and with less than an hour before sunset, I decided no good decision would come on an empty stomach, so I went to the only open restaurant in sight and had a pulled pork sandwich with potato salad AND french fries (must be carb deficient) at the BBQ joint at the intersection of Highway 67 & County  Road C. Meanwhile, I decided the "Long Horn" Motel across the road would do at $35/night, as I badly wanted a shower and wifi, having not had cell-phone service in several days. The key didn't work in the door, so I had to go back for another one. The room came fully equipped with cockroaches and one burnt-out light bulb. But the wifi worked, so I was able to talk to my folks via Skype and hash out the design for a new and improved stove wind screen, to be included in their next care package via USPS General Delivery.
Merino wool clothes are really well suited to this kind of on-the-go active lifestyle, but the only thing grosser than my long-sleeve SmartWool t-shirt was the short-sleeve SmartWool t-shirt I've been wearing under it since leaving St. Louis (and to think both had been freshly laundered just four days and 225 miles ago). After showering, the next most important thing was washing clothes; it was probably the worst laundry I've washed the whole trip.
Two peanut-butter tortilla's later, I sat down to update the blog. Next up: setting up the tent on the bed to keep the cockroaches, mosquitoes & what-have-you's at bay.