Three States in One Day.
It turns out my fears of being able to sleep with the train tracks so close was unfounded; I slept like a log, and don't recall waking up any more than I have been anyway on this tour from the different unfamiliar noises every night.
The morning was blissfully uneventful. Slept in till 9, enjoyed coffee to the sounds of the waves gently breaking on the shore, and proceeded through a three-course meal of oatmeal, bacon and fried potatoes. Given the hit-or-miss availability of running water I decided to make use of the free shower facilities and wash clothes as well. All of which made for a noon-thirty roll-out.
The day warmed up to about 50F, not balmy but not miserable. I rode through Dickeyville, and passed a religious Grotto, I considered going in for the novelty but wasn't interested enough to pay for admission.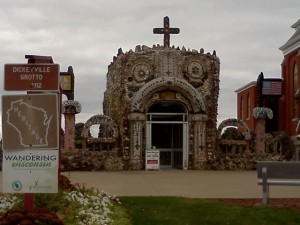 Grotto in Dickeyville, WI
Looking for lunch, I was directed to the Sunset Lanes bowling alley, where I spent an hour warming up, enjoying my daily bacon-cheeseburger, all he while talking to the bar tender, who turned out to be the owner, over a Spotted Cow. He told me about previous travelers, including one who canoed to New Orleans, and  recommended the book Into the Wild.
The temperature had started dropping, and I opted for the shorter route to Dubuque via US-151. It was, shall we say, sub-optimal. The traffic was constant and high-speed, made barely-tolerable only by the not-really-wide-enough paved shoulder (with rumble strip). I turned off at my first opportunity, and took WI-35 (later IL-35) into East Dubuque IL, and then US-20 into Dubuque IA. The US-20 bridge has a side walk on the south side of the bridge, but I only managed to ride about half way across before I had to dismount and walk past a guy with a hard-hat and a climbing harness working on the bridge. I had a touch of vertigo because of the wind and weird moire effects from the chain-link fence, the safety railings, light reflecting off the river and my polarized sunglasses and elected to walk the remainder of the way.
The afternoon was winding down as I reached downtown Dubuque, and my desire to check out the historic downtown lost against my desire to be out of city traffic before dark. After several false starts, I found my way to a very pleasant, paved, off-street bike trail.
I followed it to Asbury Road, where I eventually came to a Hy-Vee grocery store. Anticipating the possibility of stealth camping, I not only stocked up on groceries, but also water. I then turned to get out of town, and started looking for a secluded place to camp for the night. Eventually turning onto Pennsylvania Road, I passed the Hoot-Owl Hollow RV campground, and was delighted to find a sign "Overnights and weekends welcome, call the office" and the office phone number. The proprietress, on hearing I was a bicyclist with just one tent, in need of no ammenities besides a place to stay for one night, said I could stay for free and recommended a site in the back, sheltered from the wind. I assume the water was on, although I did not test it. I did make use of the electric hookup to recharge my phone, but was too chilled by the end of dinner for anything other than climbing into my sleeping bag, still completely dressed.